Sleigh Bells, one duo that I officially have to see live before I kick the can. The moment I listened to their obnoxiously loud noise pop records, I knew from that very moment that this band was going to be one that I would be VERY interested in. If I was forced to put their sound into words I would probably go ahead and describe it as a mixture of hip hop drums and bass, hardcore guitar riffs, all smashed together with the voice of a high pitched 80's pop group singer. WHAT A TERRIFIC COMBINATION. I've had the album sitting on my ear drums for just over a half a year now, and even still, whenever it's time to get hyped up, Sleigh Bells is my go to album.
My neighbors next door decided that they want to be in the running for America's next rap star, so they figured that the only way they can make it is to make mixtapes all day. Now when I'm trying to get a study sesh in, the yelling can can get quit annoying so if you too have similar problems, plug up your ipod dock, direct it towards the mutual wall, and blast The Bells till your hearts content. Why the south is still continuing to produce rappers, the world will never know.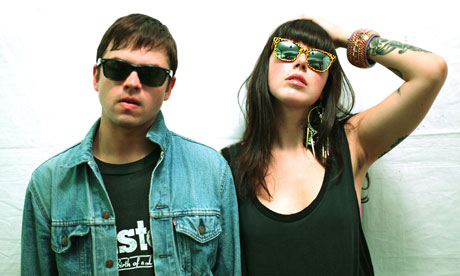 Their latest album is entitled Treats. #GETIT
Sleigh Bells - Tell Em'
Kingdom Remix
OH DID YOU THINK I FORGOT ABOUT KID CUDI? OH NO, I'M HIS BIGGEST FAN. YOU JUST HOLD ON A MOMENT, I'VE GOT THAT ALBUM REVIEW COMING REAL SOON. I TYPE IN ALL CAPS BECAUSE I'M EXCITED. PLEASE EXCUSE THE ENTHUSIASM
.